MarvelBet Privacy Policy
In this MarvelBet India Privacy Policy, you will learn what information we collect, why we collect your info, how we store your data, and how we protect it.
Please note that MarvelBet India may be referred to in this privacy policy as "We", "Us", "Our", "Platform", "Site", or "Company". This set of rules forms an integral part of the contract between the player and us.
We may unilaterally change the terms of the privacy policy without prior notice to you. We will inform you as soon as we have made the changes. We strongly advise you to read the changes. If you are unhappy with any of them, it is best to close your game account.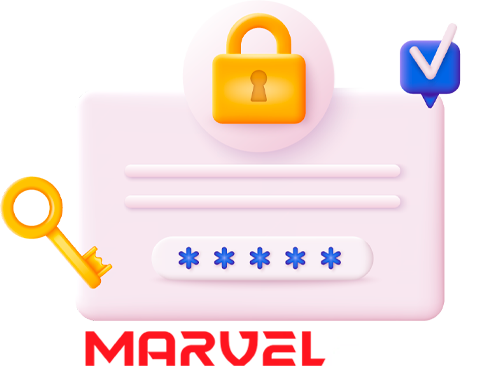 What data do we collect?
Each player is obligated to give us his data when cooperating with us. For security purposes and to ensure your proper log-in, we need info that will allow us to verify that you are the one who has logged into MarvelBet India. We may request the following info and documents from you: 
Surname, first name, patronymic (if any);
Gender;
Date of birth;
Phone number;
Address of residence;
Bank statement;
Email.
The information collected is stored encrypted on separate servers.
Data collection and processing facilities
We at MarvelBet India collect all info legally and voluntarily. Personal information which allows us to identify you, you provide to us yourself by sending us the required photograph. Technical information relating to
Technical information relating to your activity on our website is sent automatically by your computer, such information includes:
Your preferred language;
IMEI;
Operating system;
Browser type and more.
All information collected and shared will be kept strictly confidential and secure. We will not disclose information to third parties where it is contrary to this privacy policy and unless required by law.
Use of information
All information received and collected is necessary for the operation of all functions of MarvelBet India. We only use the data for reasonable purposes, without violating the law. We use your data to:
Creating a MarvelBet India gaming account;
Monitoring your financial transactions;
Promote our website;
Promotional offers;
Full-Service Provision;
Identification;
Security and so on.
You may opt out of receiving notifications at any time. Please note that we reserve the right to use a player's first name and the first letter of his surname in promotional offers if he wins.
Disclosure of personal information to third parties
All information provided to MarvelBet India will be protected to the highest level. However, every customer should be aware that there are cases where we are obligated to share your information for specific and legitimate purposes:
Litigation between players and MarvelBet India;
To protect and defend our rights;
Crime Prevention;
At the request of any governing body having jurisdiction.
If our security department discovers that a player has cheated, laundered money participated in collusion, or been involved in other criminal activity that has caused us financial loss. We reserve the right to share information about such players with our other companies and intermediaries.
Email newsletter
You can unsubscribe from the MarvelBet India mailing list at any time. You can do this yourself by logging into your game profile or by contacting support. You can always count on our managers to help you quickly and expertly.
Consent to use of electronic service providers
To start playing for real money, you need to fund your gaming account with MarvelBet India. To do so, our platform provides the most convenient and popular payment methods. By starting a partnership, you give your consent to the use of your financial information for a secure and correct transaction through intermediaries. 
Consent to security checks
To improve the security of our MarvelBet India platform, we are constantly improving and upgrading it. We have the right to request additional data from you at any time to verify your identity. We usually do this if we see suspicious activity or you make a financial transaction.
Security
All information collected and submitted by players is stored at a high level of security. We use digital 128-bit SSL encryption. Once encrypted, all personal data and financial transaction information is transmitted encrypted to individual servers. Please note that we do not retain account password information to prevent any leaks. Only specially trained staff members have access to encrypted data. They will use this information to provide players with commercial and promotional offers.
Protection of minors
Only players who are of legal age (18+) or legal age as defined by law in the respective regions can play on MarvelBet India for real money. Our security service serves to control minors. All new players are subject to an identity check. All your details will be checked and a verdict will be issued based on this check.
Cookies
A cookie is a file/function on your browser to automatically collect and transmit information. Cookies are commonly used by MarvelBet India to collect information to evaluate customer trends and generate reportable charts. Based on the data collected, we can make better and more informed decisions to improve our services.
Acceptance of Privacy Policy
If you still have questions after reading our privacy policy you can always contact our support team for clarification.
If you are dissatisfied with any of the items listed above, it is better that you do not cooperate with us and do not create a play account.
If you have created an account and made a deposit, it means you accept the above rules without reservation.