Responsible Gaming at MarvelBet India
At MarvelBet India, we are committed to providing quality responsible gaming services among our players and also to help combat the resulting gambling addiction.
MarvelBet India's Responsible Gaming Policy outlines the company's commitment to minimizing the negative effects on more addicted players.
In this policy, you will learn the basic aspects of dealing with gambling addiction and minimizing the chances of misconduct. Here you will get an insight into how to recognize the problem and the methods of dealing with it.
Responsible gambling at MarvelBet India is based on three fundamental principles: player safety, game safety, and protection from gaming addiction. Based on a scientific approach, we will explain each of our principles in detail.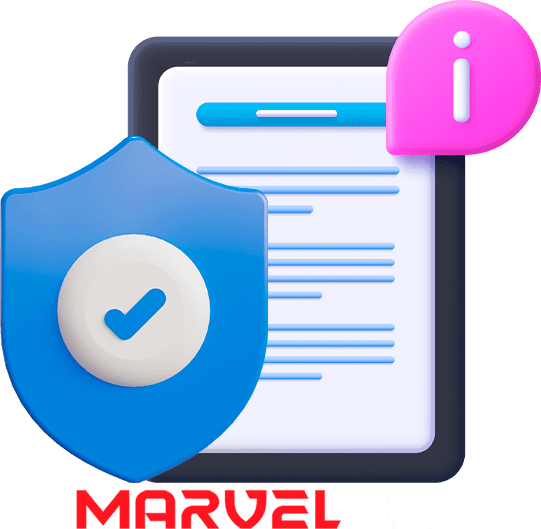 Player Safety
At Marvel Bet we take full responsibility for the safety of our players. We adhere to legal regulations and do not allow minors to gamble. To weed out such players and others who want to harm our community, there is a player verification procedure. This procedure is designed to improve the quality of service and increase security. We encrypt all of the data we receive from our players to increase the security of their information. 
Protection from gambling addiction
All our players before joining MarvelBet India agree that our platform is not a financial institution but a place for entertainment. Most of our players are disciplined and use the platform only for entertainment. But unfortunately, gambling, like alcohol and tobacco, can turn from a small prank into a big addiction. We have gamblers who are aware of the problem and take hasty steps to combat it, but we also have those who are not aware of the situation.
Clients with a gambling addiction are prescribed various restrictions, up to and including a ban on gambling. You can seek help from specialists in this field or from organizations where you can get the therapy you need.
Self-discipline is the surest way to prevent and combat an unfriendly ailment.
The basic decisions on account limits at MarvelBet India are made by the player himself.
Security of play
For customers who have found themselves addicted to gambling, there are several ways to combat this ailment. Below we will provide the necessary information in more detail.
Time out
If you have entered a wave of wins and are on a roll, it is easy to lose all your winnings at such times, and you can also lose your deposit. To avoid such situations, you should carefully evaluate your risk management and get out of the game in time. If you find it difficult to restrict yourself from playing, you can request a time out, after which your access to the service will be restricted for a certain period.
Deposit Restrictions
There are days when bets are unsuccessful and time after time players start losing all their money. In the wild desire to win back all their money and multiply it, players weak to gambling sometimes lose their heads. To avoid such embarrassment, at MarvelBet India you can set your deposit limit. All limits are stipulated individually, but as a rule, there are daily, weekly, and monthly deposit limits. You will not be able to deposit more money into your playing account than your deposit limit.
Limit gaming sessions
MarvelBet India's wide range of products allows players to spend their time on the site unnoticed. There are times when players lose touch with reality and stop spending time with their families, children, and loved ones. You can set limits on your playing session. You can limit yourself to between 30 minutes and 2 hours. Once your time is up, you will be notified when your session ends.
Self Exclusion
If none of the above methods work for you, you can resort to the most radical and effective method: self-exclusion. You can exclude yourself for 30, 60, or 90 days. During this time you will not have access to the features of our platform. Once the restrictions are no longer in effect, everything will go back to normal. Please note that you may also permanently delete your game account.
Specialist help
Many accredited organizations in India can help gamblers with gambling addiction get back to a fulfilling life. If you have started devoting all your free time to casino gambling, if your lifestyle has changed because of online casinos, you need to seek help from professionals. You can always count on an anonymous referral to such organizations. Generally, you will undergo in-depth therapy that will allow you to correct your mistakes.
Identifying addiction
If you are constantly gambling MarvelBet India, over time you may find it difficult to know the line between pleasure and gambling. However, some diagnostic signals can help you determine if you have a problem. By taking our test, you'll be able to come up with your verdict:
The player is deeply involved in gambling, all his thoughts are occupied with the game;
The amount of betting increases over time;
Attempts to quit or control his involvement in the games prove unsuccessful;
Limiting his involvement in gambling becomes frustrated and disappointed;
Gambling is a way to escape from problems or discomfort;
A gambler tries to win back the amount lost;
Lies about his gambling behavior;
Commits illegal acts;
Messes up or breaks up relationships with family and colleagues;
Borrow money to participate in games.
The more positive answers you get in our test, the more likely it is that you are experiencing the first signs of gambling addiction. Here are a few rules to keep things from getting worse.
Rules for responsible gambling
To participate in MarvelBet India you need to follow a few rules so that you can enjoy the game and not get hurt in the process. By following these rules, you will take your gambling to the next level:
Start gambling only when you are calm and focused;
Take regular breaks;
Determine in advance the monthly amount you can spend on playing;
Once you have set a maximum limit, do not increase it further;
Before you start playing, determine the maximum amount of winnings, after reaching this you should stop playing;
Determine in advance the amount you can afford to lose;
Do not gamble while under the influence of alcohol or drugs;
Do not start gambling when you are depressed.
Have fun playing on our platform MarvelBet India and remember that it is never too late to admit your mistakes! It's much worse to be afraid to admit it to yourself and make it worse. If you entrust your life to the experts it will be the right decision to fight.